Shoden-Ji Temple
【A HIDDEN SPOT WHERE TIME STANDS STILL】
Shidenji Temple belongs to the Rinzai school of Buddhism and is situated in Nishigamo.It was built by the venerable Togan Ean, a monk during the Kamakura period.
【Garden of the Lion Family Crossing the River】
The temple's garden is a flat garden of white sand. It is arranged in the kare-sansui style, with pruned azaleas in groups of seven, five, and three. The garden is designed to incorporate a view of the sacred Mt. Hiei, which is visible in the distance, and is one of Kyoto's designated scenic beauties.Sitting on the wooden decking overlooking the ever so quiet garden gives one a curious sensation, as if the concept of time had dissolved.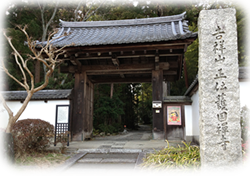 【Bloody Ceiling】
The floorboards/ceiling in the main hall, which is the residence of the head priest, were transported from Fushimi Castle and are known as as the "bloody ceiling." Just before the Battle of Sekigahara, 1200 men under the Tokugawa general Torii Mototada were barricade inside the castle and committed suicide on these floorboards. Large numbers of bloodstains in the shapes of human hands and feet are still visible and speak of this tragic historic event.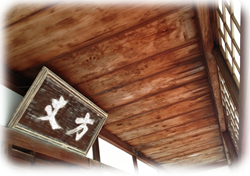 Access:
20-minute walk from Misonobashi801 Shopping Center.
15-minutes walk from "Jinkō-in mae" city bus stop
Fee:
Adults 400 yen, Senior high school students 400 yen, Junior high school students 300 yen, Children 200 yen