Jinko-In
Jinkō-in is the "Kōbō-san of Nishigamo"; it is a Shingon temple created in the year 1217 (Kempō era year 5). It is a famous place to visit and pray for warding off evil and eye disease.
 The temple's Kōbō Daishi statue is a wooden carve statue of Kūkai (Kōbō Daishi) at 42 years old—those praying for protection from evil gather at the temple. Every year on July 21st, and on the midsummer's day of the ox, a "cucumber blessing" is performed to ward off various sicknesses. A "cucumber blessing" is when the temple accepts a cucumber as a sacrifice which the bad parts of you will follow; people pray for those bad parts to return to the soil and protect themselves from diseases.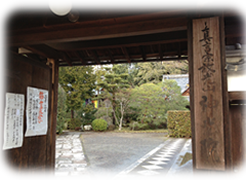 Other than that, there is the tea-house of the tanka poet, Otagaki Rengetsu, who used to live a secluded life on the temple grounds.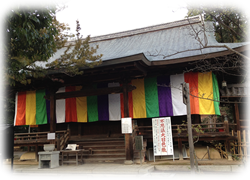 Benefits:
warding off evil and eye disease
Access:
5-minute walk from Misonobashi801 Shopping Center.
3 minutes walk from "Jinkō-in mae" city bus stop
Fee:
Free to visit